Echo Park is located in the heart of Dinosaur's canyon country. Here, the Yampa River flows into the Green River, which winds around the massive feature known as Steamboat Rock. The meeting of the two rivers along with nearby geologic faults created some of the monument's most dramatic scenery.
Echo Park provides many opportunities to enjoy remarkable surroundings, discover Fremont petroglyphs or explore the area's homsteading and ranching history. You can watch watch river rafters float past on the Green River. Picnicking and camping are also available in the area. A spectacular display of stars is visible in the night sky due to the lack of any light pollution from nearby towns and cities.
---
How to Get to Echo Park

Echo Park is located 38 miles from the Canyon Visitor Center which is near Dinosaur, Colorado. The first 25 miles are on the paved Harpers Corner Road. The last 13 miles requires driving on unpaved roads. These roads are impassable when wet and are recommended for high clearance vehicles only. Right after you leave the Harpers Corner Road, you will descend quickly down several switchbacks. Before heading to the Echo Park area, stop at the visitor center for information on road conditions or call (970) 374-3000.
Picnic Area

Picnic tables are available in the Echo Park Campground. Several are located near the banks of the Green River and surrounded by spectacular scenery. The campground has vault toilets. Drinking water is available seasonally (usually late-May through late September).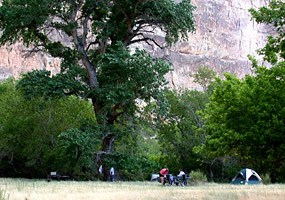 Camping

Echo Park Campground has 22 sites suitable for tent camping including one handicapped-accessible site and four walk-in sites. A few sites have shade.The campground has picnic tables, firepits, and a vault toilet. Drinking water is available seasonally (usually mid-May to late September). When water is available a fee of $10.00 per site, per night is charged. When water is not available, the fee is $6.00 per site per night. Echo Park Campground is open year-round, but there is no winter maintenance on the dirt road leading to the campground. Access to the campground requires high-clearance vehicles. RVs and trailers are strongly discouraged due to sharp turns, steep grades, and rough roads. More information on camping at Dinosaur National Monument …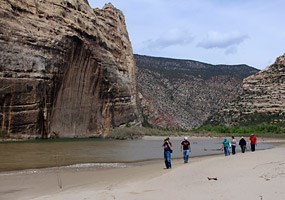 Hiking

There are currently no established trails in the Echo Park area, but several routes do exist. The easiest is a short, level walk to the confluence of the Green and Yampa Rivers. Here you can see the brown, muddy waters of the naturally flowing Yampa River mixing with the clear greenish tinged waters of the Green River. Use caution along the river banks, as they can collapse without warning. This walk starts from the end of the road, just past the river access point. Follow the river shore to the northeast. During periods of high river flows, the sandy beaches may be covered by water.
Other off trail routes exist such as hiking to Mitten Park or past Jenny Lind Rock and into lower Sand Canyon. Anyone planning to explore these areas should carry a map and compass and know how to use them. You should also make sure you have plenty of water and appropriate gear for the weather.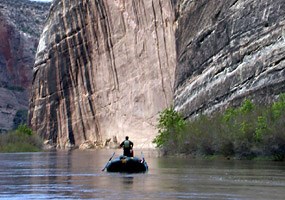 River Rafting and Boating

Multi-day raft trips pass by Echo Park. Many of these raft trips will stop at Echo Park to refill water bottles or take a hike. Rafting Dinosaur's rivers requires both skills, in-depth planning and a permit. More information on how you can raft Dinosaur's rivers …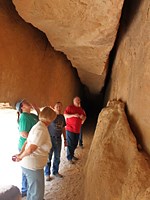 Whispering Cave

Located approximately one mile from the Echo Park campground along the Echo Park Road, this fissure in the sandstone rock provides a cool and shady spot to rest on a hot day.